I just rediscovered this picture and thought I'd post it. In the late 80's, I puppeteered for a literacy campaign called Read America that featured two reading dinosaur characters named Rex & Rita Saurus who would make public appearances to promote the program. I puppeteered Rex.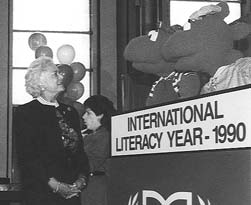 One supporter of the Read America program was then First Lady Barbara Bush, and Rex & Rita did a couple of appearances with her. She was great -- a truly warm, genuine lady. This picture is from an international literacy day at the United Nations. We were also on Good Morning America with Mrs. Bush, and did appearances all over the country, including the Washington D.C. area, Dallas, El Paso, Los Angeles, Tampa Bay, NYC, and other places.
Really curious about Rex and Rita? Click here for more info.

Photo from Private Collection of Rick Lyon
Reproduction or Redistribution in Any Form Strictly Prohibited