CHINA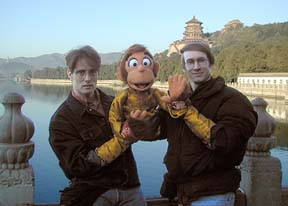 Above, from left, Ron Binion, The Monkey, and Rick Lyon on location at
the former Summer Palace of the Emperor outside Beijing.
In mid-November 2001, I was lead puppeteer for an English-as-a-second-language project for Chinese TV which shot on location in and around Beijing, China. Also puppeteering was Ron Binion. I designed the character, a monkey loosely based on the idea of the Chinese folk hero The Monkey King, and I worked with several other people to build the two puppets (live hand and rod hand versions of the character). We shot at the Summer Palace, at the Great Wall, at a local train station, the Beijing Zoo, and even at Tienanmen Square! It was an incredible experience.