CORN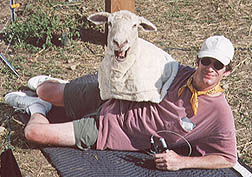 Above, me puppeteering for a thriller/shocker feature film to be released in 2003, titled CORN. In it, sheep go nuts and attack people after eating a crop genetically engineered by the bad guy. We like to think of it as a "cautionary tale." The sheep puppets were made by Film Illusions from L.A., and the puppeteers included myself, David Feldman, Bryant Young, Craig Marin, and others. We shot our sheep puppet stuff on the Brodekker farm in northern New Jersey, surrounded by live sheep, lying out on the the fields in sweltering heat in late July 2002. Yeah, and it smelled good, too!
Photo Private property of Rick Lyon
Unauthorized Redistribution or Reproduction in Any Form Strictly Prohibited.