BEAR IN THE BIG BLUE HOUSE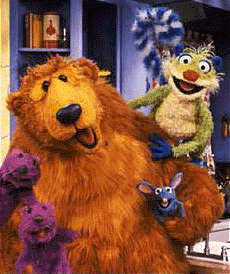 "Bear in the Big Blue House," is a Henson company project created by Mitchell Kriegman which airs on the Disney Channel. I've donned the Bear a few times just for photo shoots (he's a wonderful costumepuppet), and have puppeteered for the show once in a while. (By the way, that's me in Bear in the above photo, but I DO NOT perform him on the show. Find a photo of Rick with Bear here.)

---
"BEAR" FAQ'S
Where can I find "Bear" merchandise (toys, books, etc)?
"Bear" merchandise is all over the place, including Target and Toys R Us stores. Disney also sells lots of exclusive "Bear" merchandise at Walt Disney World, and at Disney retail stores.
Is "Bear" available on home video?
Yes. There have been many "Bear" videos released so far, including the infamous "potty training" episode. There a couple of CD-ROMS, too. They are available almost everywhere on the planet videos are sold, including many super markets, and from online sources like Amazon.com.
Where can I see the live "Bear" show?
The live show is performed at Walt Disney World at the Disney-MGM theme park, and I think a "DIsney Playhouse Live" mall tour is still playing around the country. The puppeteers for the TV show do not perform this live show - other puppeteers perform to a pre-recorded soundtrack with the TV show's performers' voices on it.
Who plays which characters on "Bear"?
As performed for the TV show, the main characters are as follows: Noel MacNeal is Bear, Peter Linz is Tutter and Pip, Tyler Bunch is Treelo and Pop, and Vickie Eibner is Ojo. The late Lynne Thigpen is the voice of Luna, and Tara Mooney is the voice of Shadow.
All character names & likenesses © The Jim Henson Company
Photo © JHC used quite shamelessly without permission