| | |
| --- | --- |
| | At left is a picture of the puppet I helped puppeteer for 1997's megahit MEN IN BLACK. Specifically, I operated the mouth, which was radio-controlled, as were the eyes. The tentacles and head movement were all cable-operated. One of the reasons I got the job was because I could sound like a baby crying, but when we shot the scene, Barry Sonnenfeld, the director, didn't want me to make any noise. Ah, show business! By the way, when you watch the movie, don't bother looking for my credit -- only the L.A. puppeteers got their names listed. |

Below is the NYC puppet crew for the alien baby. Lurking beneath the red arrow is Oscar winner and creature and makeup FX creator extraordinaire Rick Baker, whose shop designed and fabricated all the aliens for MIB. The dork under the green arrow is me, and beneath the blue arrow is the film's puppet performance coordinator Tony Urbano. And yeah, Will Smith was great to work with. During one break in the filming, he joined us in singing the theme song from the old Muppet/HBO show "Fraggle Rock."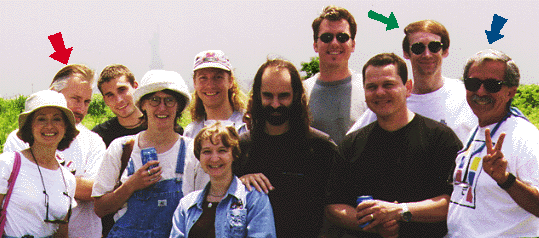 Crew photo from private collection of Rick Lyon
Unauthorized reproduction in any form prohibited
MIB logo and Baby photo Copyright Sony Corp.