Caroll Spinney and Big Bird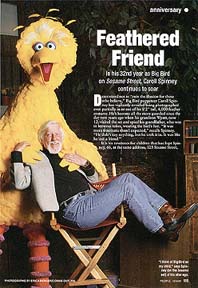 Did you see this terrific picture in the Dec. 4, 2000 "People" magazine? A nice photo (with a brief accompanying article) of Caroll Spinney, and yours truly in Big Bird, just for the photo. I hadn't been in Bird for a while, so I was nervous about him looking good, but I think he looks okay.
Photo by Erica Berger/Corbis Outline as Published in People magazine
Used Without Permission.