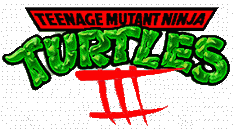 NOW AVAILABLE ON DVD! HONEST!

I had a blast puppeteering Donatello for TMNT 3. Donnie's animatronic head was particularly expressive, and the suit performer, Jim Raposa (a very talented actor, dancer, and black belt), and I had a great time working together. I'm really proud of my work in this film, and I'd love to puppeteer Don again - but if they ever make another film, you can bet they'll all be computer animations.
Below, a photo of me operating the animatronic controller. It's very complicated, and learning to puppeteer with it is like learning to play some sort of alien musical instrument. As a puppeteer, you have to program the controller to make the servos in the head move the way you want them to. Also below is a photo of Donnie's head on a stand during an early rehearsal in the All Effects workroom.
All Photos from private collection of Rick Lyon
Unauthorized Reproduction or Redistribution in Any Form Strictly Prohibited.
TMNT logos, names, and likenesses Copyright Mirage Studios USA