VH1 Pilot, Page Seven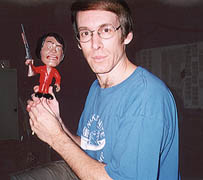 Above, Rick and a James Brown bobblehead. I think I'm about to say "My hoovercraft is full of eels."
The production company for the segment was CHARGED (www.charged.com), the artistic directors for which are Adam Pierce and Alex Cohn. The people who helped me build the bobbleheads were Ronald Binion, Deborah Glassberg, Adam Pagdon, and David Regan. The troopers were cast in neoprene, as were the James Brown heads. The James Brown bodies were made of an epoxy putty called MagicSculp. We custom made the springs that made the heads bobble. That was a real puzzle - the springs had to be a very specific shape and tension for the heads to bobble around successfully, which they did, which was very funny!
Photos from Private Collection of Rick Lyon
Unauthorized Reproduction or Redistribution in Any Form Strictly Prohibited
"Reality Theatre" © VH1/MTV Networks