Former Commander-in-Chief Vists AVENUE Q
\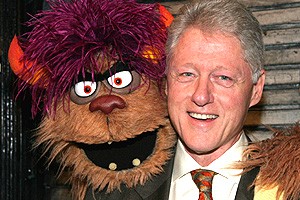 On Decmeber 27, 2003, former United States President William Jefferson Clinton attended an evening performance of the Broadway musical AVENUE Q. With him were NY Senator Hillary Rodham Clinton and daughter Chelsea. Before the performance, the cast was told (warned!) that the Clintons would be seeing the show, and that all sorts of additional security would be in place, so unless you want to be thrown to the ground by Secret Service guys, don't approach them suddenly. When they entered the theatre, the Clintons received a rousing ovation, and afterwards they were gracious enough to come backstage and say hello, shake hands, and pose for some photos. More proof that we are THE show to see on Broadway.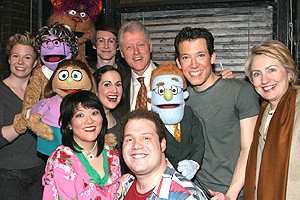 Yes, that ghostly guy in glasses in the back row between Trekkie Monster and Bill is me. What an out-of-body experience, seeing my puppets around such famous people.
All Photos by Bruce Glikas. Unauthorized Reproduction or Redistribution Strictly Prohibited.