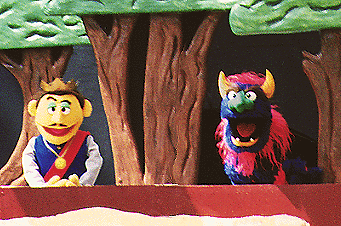 Here's a photo of The Lyon Puppets performing my original show THE MONSTER outdoors at the 1996 New York Renaissance Faire. Pictured above left is the show's bigoted King, and at right, a monster in distress who is really a wizard in disguise. The King refuses to help the monster because he is different, and the Wizard then turns the King into a monster to teach him a lesson about tolerance. For more info about THE MONSTER, check out the program listings for The Lyon Puppets.
Photo from Private Collection of Rick Lyon
Unauthorized Redistribution or Reproduction in Any Form Strictly Prohibited.
Puppet likenesses and names © Rick Lyon.