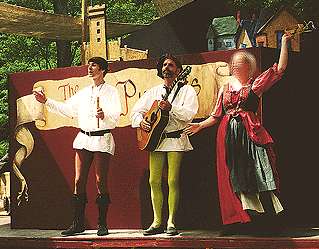 From Left to Right: Rick Lyon, David Regan, and Jen Barnhart
Above, The Lyon Puppets at the New York Renaissance Faire in Tuxedo, NY in 1996. Dig the groovy tights! We started each show with a period song, then performed my show THE MONSTER. We had a great time, and attracted very large audiences -- but the Faire was sold to a big producing company the next year and they didn't ask us back. Too bad. It was a lot of fun, and I'd love to do it again.
FAQ: Why is Jen's face blurred? Because for a while she did not wish to be associated with my troupe, so her name was removed and her face blurred. Then she had a change of heart, but the original picture was lost, so, her name could return, but her face couldn't.
To see a photo of THE MONSTER in performance at the Faire, click HERE.
Photo from Private Collection of Rick Lyon
Unauthorized Redistribution or Reproduction in Any Form Strictly Prohibited