Frankenstein's Monster Unbound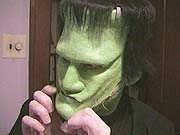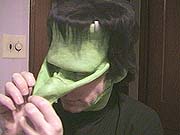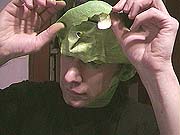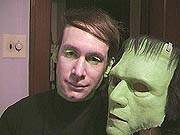 Removing a prosthetic makeup like this is usually very difficult, because all the adhesives used are really tenacious. But I'd been in this SO long (10 hours), and I had perspired SO much underneath it, that it rather miraculously peeled off (with some effort) in essentially one piece, like a bad episode of "Mission: Impossible." Note that the eyelids are still glued in place on mine (they were REALLY hard to get off), and I've already pulled the electrodes off my neck. Hard to imagine anything scarier than how I looked when I removed the makeup!
< Go Back to Halloween 1999 Page One
Photos from Private Collection of Rick Lyon
Unauthorized Reproduction or Redistribution in Any Form Strictly Prohibited.