HALLOWEEN 2000,
"Return of the Monster"
Okay, gentle viewer, here are some behind-the-scenes photos of the Year 2000 version of my Frankenstein's Monster foam latex prosthetic makeup. Improvements this year included nicer neck electrodes (note how sleek and metallic-looking!), better blending of the edges of the prosthetic, and heavier eyelids. The foam latex was really soft this year, and incredibly pliable, as you can see from the photo below right where I have my brow flexed.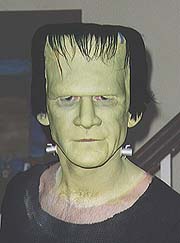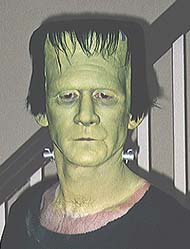 It still took over 6 hours to apply, but went on much better than last year thanks to the assistance of Deborah Glassberg, who also helped with the foam latex process, and took these pictures.
For more "making of" photos, click here.
For a photo of the fully costumed finished makeup, click here and go to my photo album.
All photos Private Collection of Rick Lyon ©2000
Unauthorized Reproduction or Redistribution in any Form Strictly Prohibited