If you've already looked elsewhere on this site, you can see that I have a healthy (?) admiration for the original STAR WARS movies. One of my favorite characters is C3PO, and I've always wanted to do a costume of him. But at 6' 2" I'm way too tall for that. So I have to satisfy myself with doing other characters. This Halloween, I did Darth Vader.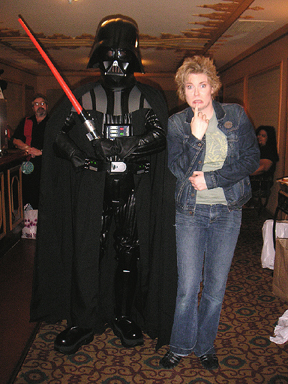 Pictured above is me in my Vader outfit with AVENUE Q's Jennifer Barnhart, at the Q Halloween weekend pot luck dinner in the lower lobby of the theatre. Jen is 5'10", so you can see that in complete Vader costume, I stand nearly 7' tall. I'm a fairly skinny Vader, but the effect is still pretty cool. At home passing out candy on Halloween night, there were a fair number of little kids who didn't want to get near me!
Photo from private collection of Rick Lyon.
Unauthorized reproduction or redistribution in any manner strictly prohibited.