Kermit Love's Birthday Page Two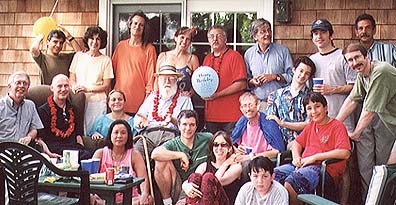 Above, some of the gang at Kermit Love's 85th birthday party (with apologies to those whose last names I can't remember):
Back Row (L to R): Sal Denaro, Toby Conner, Marty Robinson, Pam Arciero, host Victor DiNapoli, Arthur Ansalone, Michael, John
Second Row (L to R): Dave Conner, Christopher Lyall, Carmen Osbahr, Kermit Love, Mark Zeszotek, Laurent Linn, Rick Lyon
Bottom Row (L to R): Cher Jung, Peter MacKennan, Naomi, Pam's sons Luke (grey shirt) and Nick (red shirt).
Update 2009:
Wow, a lot of history in this photo, and several departed friends.
Now deceased in this photo: Kermit Love (June 2008), Mark Zezsotek (Oct. 2004), Arthur Ansalone (March 2007).
Photo from Private Collection of Rick Lyon
Unauthorized Reproduction or Redistribution in Any Form Strictly Prohibited