MICROSOFT VIDEO PRESENTATION
FOR COMDEX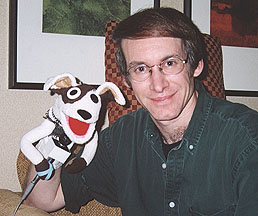 Every year as part of Bill Gates' keynote speech at COMDEX, there's a pre-taped segment, usually with a humorous theme. I recently performed the Sock Puppet (formerly known as the Pets.com Sock Puppet) for that video. And yes, it's THE Sock Puppet - now owned by a licensing firm in Kansas. But why was the Sock Puppet in Bill Gates' video? Go to the next page to find out!
Photo From Private Collection of Rick Lyon.
Unauthorized Reproduction or Redistribution in Any Form Strictly Prohibited.
The Sock Puppet is someone's property now, but I can't remember who. It's not mine.