MICROSOFT COMDEX VIDEO PRESENTATION
PAGE 2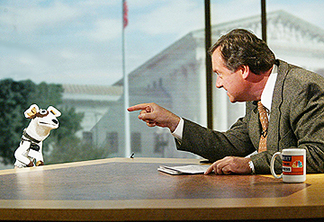 Above, Tim Russert (right) points an accusatory finger at the Sock Puppet (left, performed by Rick Lyon).
The video presentation preceding Bill Gates' COMDEX keynote speech this year was sort of a history of the PC. In the segment for which I performed, MEET THE PRESS moderator Tim Russert confronts the Sock Puppet, blaming him for the dot-com crash. We taped the segment on the MEET THE PRESS set in Washington, D.C. Surprisingly, the sock puppet's dog collar watch was running, and set for the right time (FYI, it's a Timex Indiglo)!
Photo From Private Collection of Rick Lyon. Courtesy McCann-Erickson.
Unauthorized Reproduction or Redistribution in Any Form Strictly Prohibited.
Sock Puppet copyright Somebody. Tim Russert probably copyright Tim Russert.